Foundation is one of the most powerful makeup tools in existence— from its ability to cover up inflamed skin or breakouts to its potential to have anti-aging effects if blended correctly and with proper techniques. While foundation can look easy to do (just apply it to the face with a brush or sponge, right?), it actually requires several essential steps beforehand to ensure a look that is clean, smooth and that lasts all day. 
Many foundation wearers often make one common (and easy to do) mistake, so we asked professional makeup artists— Mandie Brice and Margina Dennis— for application and blending tips to avoid a clumpy, unnatural look. 
These are the best V-Day gifts for her & him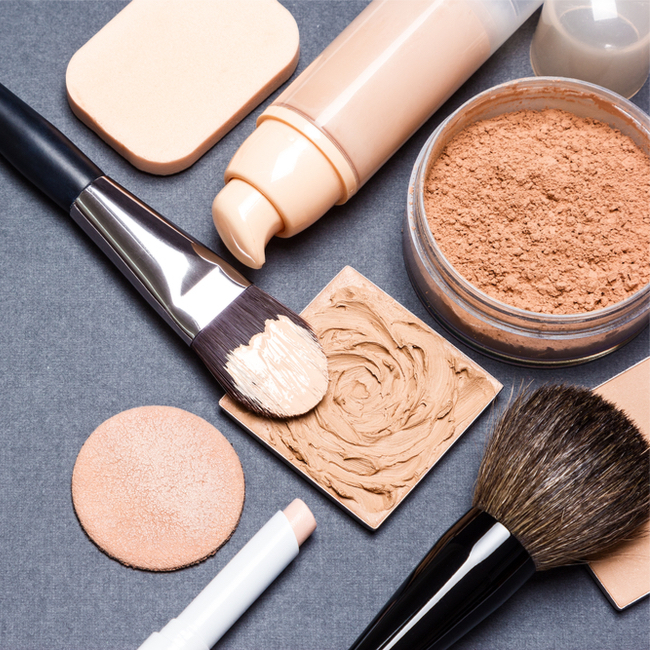 Shutterstock
The Biggest Foundation Mistake— Not Adhering To Your Skin Type Or Cleaning Your Tools 
Fixing this common mistake requires you to take notice of two things— if you are using the right foundation product for your skin type (oily, dry or combination) and how often you are cleaning the brushes and/or sponges you apply it with.
There are several different kinds of foundation, including: liquids, serums, tinted oils, powders, sticks, whipped mousse, creams, etc. The wrong product for your skin plus dirty makeup tools leads to clumpy, patchy and tacky looking foundation, making it the most noticeable mistake.
"Regarding foundation mistakes that make people look older," Brice says, "I would say that the main issue is when people use foundation that is drying like powder, or even liquid." She notes that skin with texture, like aging skin, works "best with a cream or serum foundation, as anything drying can accentuate wrinkles." 
Skin prep is also a huge part of how your foundation will look, so Brice says to ensure that you are cleansing and moisturizing your face (no matter what your skin type) daily to smoothen and hydrate the surface. If you do have dry skin, it's important to note that one specific foundation type might do more harm than good in your overall makeup look.
"Many people are in the habit of using powder as a last step, and they may not need it," she continues. "Our skin produces less moisture as we age, so we may not need powder to mattify and set anymore. This could be unnecessarily applying it, and again accentuating wrinkles."
As you now, caring for your skin type requires daily cleansing and moisturizing, but there might be something else you're forgetting to clean thoroughly— your makeup brushes that you use for foundation. "I think so many of us are guilty of not washing our brushes as often as we should," Brice adds.
"Many people also don't know that sponges can't truly be sanitized." She also says to avoid "applying foundation with our fingers" as this can be a big mistake, "if we don't first wash our hands." This can lead to "breakouts, or even infection."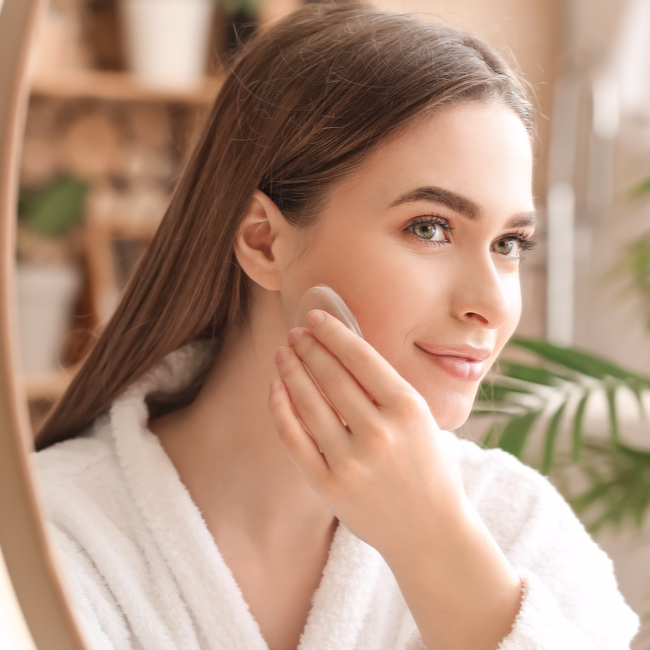 Shutterstock
Go-To Foundation Blending Tips 
You know that saying, "less is more?" Dennis says that this may have truth to it when thinking about the art of mastering foundation. "Most people apply way too much foundation than they really need to get their desired look," Dennis explains, saying that "the best way to apply foundation" is to start with a penny-sized amount and apply to the center of the face. The next step is to blend out from there to the hairline and jawline, and then apply more when you need additional coverage. "Your foundation will last longer and will look fresher," she says. 
Brice notes that the "wrong color" of foundation can also make someone look "older" than they are, so making sure that it matches can help as well. Dennis agrees, saying something to be careful with is choosing a foundation that doesn't match the rest of your body, apart from your face. Dennis says that those who only match their shade to their face can look like a "floating head"  because of the disconnect from the face and the body. 
"The solution is to match your foundation to your neck, or if your body is drastically a different color, then match to your body and blend the foundation onto the neck," she advises. If you don't know where to begin, Dennis says she likes to take 3 shades—warm, cool and neutral and put them along the jawline. Then, blend them to see which one melts into the skin. The one that "disappears," the most, she says, is the match!
Makeup Artists Say This Is The One Foundation Mistake You Have To Stop Making ASAP