Under a beautiful blue November sky in a city routinely ranked among the best in the country for its architecture and cuisine, two medical students were about to get their first glimpse of something that isn't featured in any Charleston guidebooks. They were making their way through a marshy patch under Highway 17, less than a 2 1/2 mile walk from the iconic Rainbow Row but a world apart in most other respects. Their destination: some of the city's hidden homeless camps.
Anna Beth Eitel and Cora Bisbee, first-year students at the Medical University of South Carolina, had volunteered to help with what their guide called "house calls for the homeless." "It's kind of nice to do this because all we do right now is study and go to class. It reminds you of what you're here for," Eitel said.
Their guide, Allan Woods, is an emergency medical technician who started the nonprofit Charleston Street Wellness Patrol. His group checks on homeless camps and offers basic supplies and sandwiches. And if someone is in a medical crisis, it does what it can to help.
Earlier this year, Woods asked MUSC if some of its students and medical residents would like to go with his team on their visits to homeless camps. The students would be there to learn and assist. The residents, medical doctors getting additional training, could treat health problems for anybody who needed it. Woods got a quick response.
"This was an easy yes for me," said Patrick Cawley, M.D., MUSC Health CEO and vice president for Health Affairs at MUSC. "During my training at Georgetown and then later in Durham, North Carolina, I worked homeless clinics on a regular basis. So, I know this is a population that needs care."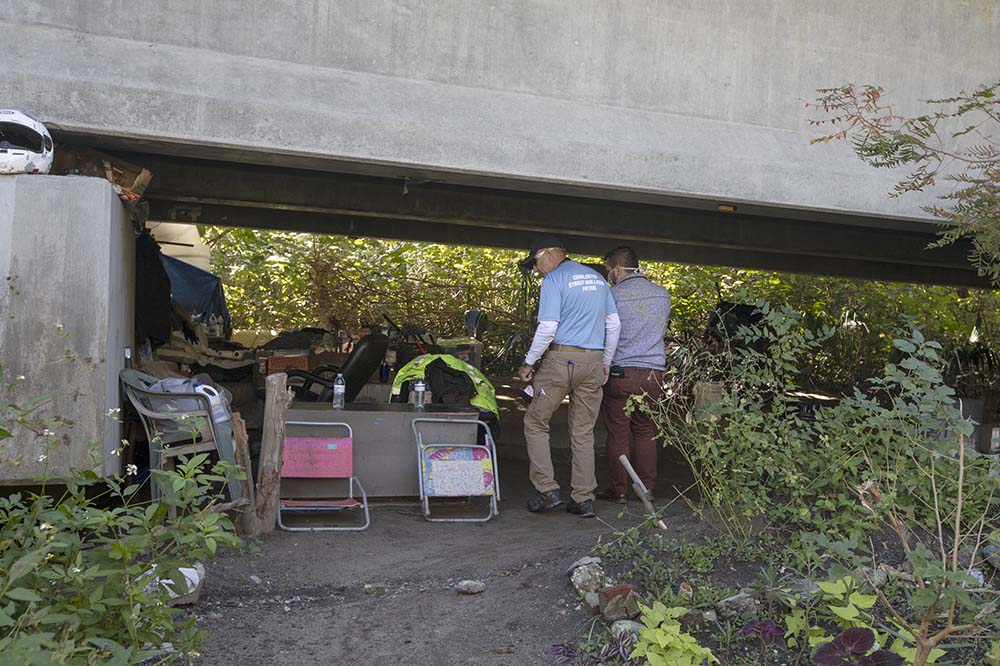 Providing that care is a valuable learning experience, Cawley said. "There are the socioeconomic issues to appreciate and very specific medical issues that need to be understood. I can easily think back to things I learned caring for homeless that I still use today. So, it's absolutely important."
Back at the marshy patch under Highway 17, Eitel, Bisbee and Woods were joined by a mental health expert from a neighboring county and medical resident Thomas Ricks, M.D. Ricks had just finished a shift taking care of patients at The Navigation Center, a drop-in site where homeless people can get everything from clothing to health care to legal advice. Ricks was there as part of his residency program at MUSC. His visits to homeless camps were a voluntary extension of that.
The first camp Ricks and the rest of the group reached was home to two young men. It featured a small tent, a sofa and a pile of bicycles. Three flags — one bright pink, one blue and one American — hung from trees. There were also enough empty food and drink containers to fill a recycling truck.
One of the camp's occupants wanted to talk privately with Ricks. The conversation lasted about 15 minutes. Later, Ricks debriefed the medical students. It was clear that this had been no ordinary appointment. His patient not only lived in a homeless camp — he was also a drug user with a lot of worries.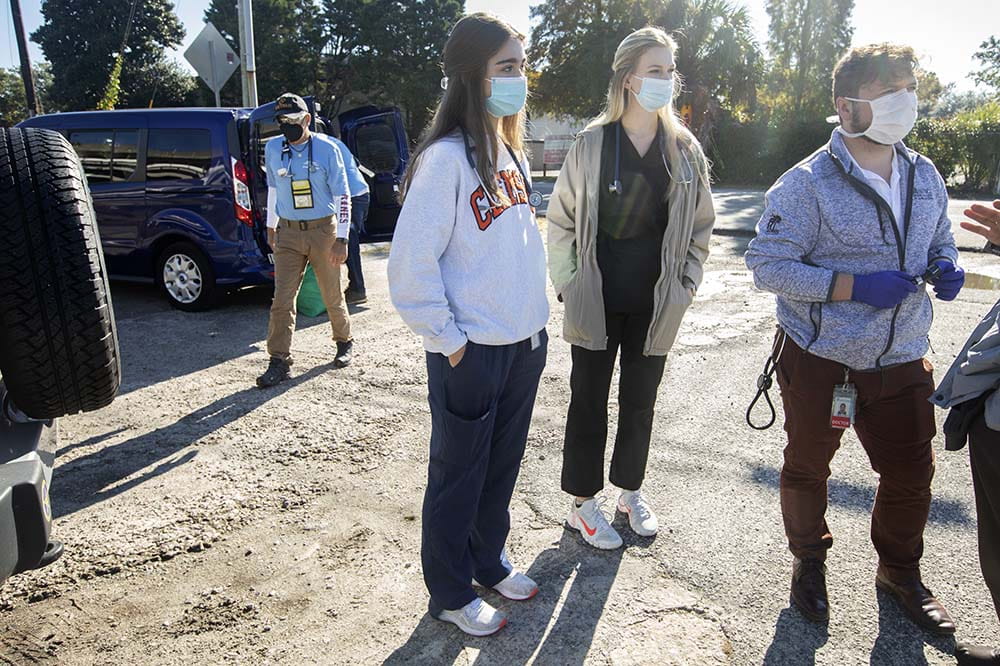 "He asked about HIV. He's super scared of getting HIV. What's something we can do for him or anyone at risk of getting HIV?" he asked Eitel and Bisbee.
"A prophylactic?" one of the students said, referring to a medication that prevents illness.
"Yes, you take it once a day and it pretty much eliminates your risk of getting HIV," Ricks answered.
Ricks said the man had also been feeling ill, months after a bout with pneumonia. "What's something else, specifically, that causes chills, sweats and cough symptoms — sputum production, shortness of breath? Something you don't see in America all the time."
"Tuberculosis?" one student guessed.
"Exactly."
Ricks would follow up later to try to get the man a medication that can prevent HIV and get him tested for TB, a condition that's more common among the homeless than in the general population. Being homeless is associated with a lot of health conditions. It can also shorten a person's life by about 20 years.
Cristin Adams, D.O., MPH, knows that well. Like Ricks, she's with the MUSC Department of Family Medicine. She also serves as an assistant professor in the College of Medicine, leads the program that connects medical residents with the homeless outreach and works as medical director of both The Navigation Center and Woods' street medicine team. Street medicine involves bringing social services and health care to homeless people where they live.
"There's a lot of chronic disease, checking on medications and checking on things that patients had been seen for in the hospital. They check blood sugar they check on wounds. And there have been emergent situations," Adams said.
"In one, a young girl addicted to heroin was dangerously ill. She had really low blood pressure and a very high pulse, and they had to call the ambulance immediately. It's intense. If people like this don't get care, which often happens, then they just wind up back in the emergency room or the hospital because they have no other choice."
Woods has come across people who didn't make it to the hospital in time. "I've found people dead. That's why I always check on the side of mattresses. And these are people I really knew," Woods said. He's created a memorial for some of the homeless people he knew who have died, listing their names on a pole near a downtown skateboard park.
Ricks said it's important not to judge, but instead, do what Woods does: try to help and treat people respectfully. "I think we approach things sometimes from the standpoint of being very paternalistic. Like, 'You shouldn't drink; you shouldn't do IV drugs.' But they know that, right? Alcohol use disorder, IV drug use, those are diseases in and of themselves. They're also exposing themselves to a variety of other things through their conditions.
"And so, whether you can ease their feelings about certain risks – for HIV, the risk of tuberculosis, that sort of thing – or if you can really encourage them that they need to be tested or let them know there are medical therapies that are available that might help limit or reduce those risks, it's important to tell them about those things. It's a public health issue," Ricks said.
Some homeless people don't want medical attention for what can be obvious issues. The next camp the group visited was home to a woman Woods has known for years. "Meth. A lot of meth. You can tell by her mouth," he said.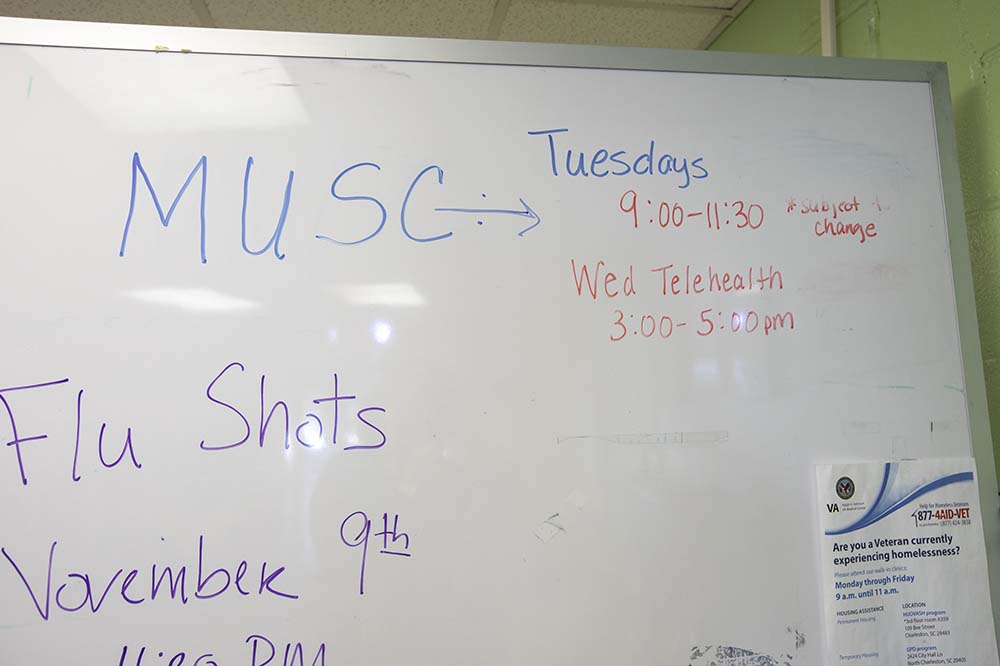 Methamphetamine can do severe dental damage, a phenomenon known as meth mouth. But the woman didn't ask for aid for that. She just wanted a sweatshirt for the cooling weather and some other basics, which the group helped her with.
Then, the team headed to another camp. It was wedged into a small space nearby where a bridge met land, creating a cave. "There's somebody back in there. Let me go up there first. I think I know that guy," Woods said.
It was another glimpse into a world that exists beneath the one most people see in Charleston — and another chance for the medical students to see just how challenging some future patients' lives might be.
"I like to get in the community and volunteer, get my experience tending to multiple types of communities," Eitel said.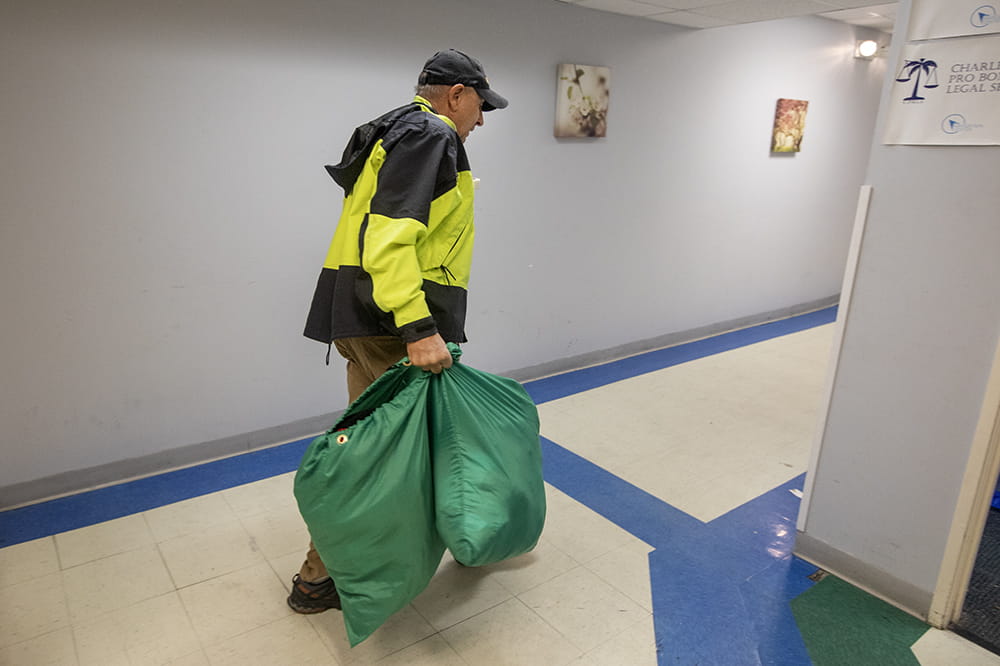 She and Bisbee would take that experience back to the MUSC campus. Adams, the assistant professor, would be there, too, pushing to expand the program so more students and residents could benefit from understanding the kind of living conditions many had had no previous contact with.
"I think this has been even more of a positive experience than we anticipated, and the need is so great," Adams said.
The program is the latest of MUSC's efforts to help people who don't have a lot of resources. MUSC runs the free CARES Clinic in Mount Pleasant along with a program that collects and hands out supplies for older homeless people and another that offers telehealth for the homeless.
Cawley, the CEO of MUSC Health, said the Woods' street medicine initiative is a welcome addition. "It broadens out anybody's thinking who goes out there."
https://web.musc.edu/about/news-center/2021/12/16/medical-students-and-residents-volunteer-for-street-medicine